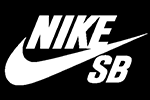 Read About Nike and
Nike SB
NIKE SB
What do you do when you're already the world's #1 brand of athletic shoes and apparel? You launch a line of primo quality skateboard shoes of course. And that's exactly what Nike did in 2001 when they created Nike SB. The SB stands for skateboard by the way, and in addition to a killer line of expertly designed skate shoes, Nike SB also offers men's t-shirts, men's hats, men's hoodies, men's jackets, backpacks and socks. (And just so you ladies know that Nike SB loves you too, a full line of Nike SB girl's shoes and apparel is set to arrive soon. We'll give you a shout out when they do.)
So you might be wondering exactly how Nike SB came to be, and what is it about their gear that makes each design so amazing. Truth be told, the Nike SB story is just as crazy vivid as the colors of their shoes. So let's start with a little history, shall we?
Originally known as Blue Ribbon Sports back in 1964, the fledgling shoe brand was led by University Of Oregon track athlete Phil Knight and his coach Bill Bowerman. It wasn't until 1978 that they changed the name to Nike after the Greek goddess of victory. (Ha! Nike is a girl's name.)
Indeed, Nike's first products were track and running shoes, which led to men's t-shirts, women's tees, shorts, hoodies, hats and the like for practically every sport ever invented. (Including basketball. Anyone ever hear of Air Jordans?) And it was with same passion to create superior products for skateboarding that led to the launch of Nike SB. In 2004 they released the initial Nike Dunk SB shoe line, complete with the revolutionary Zoom Air insoles. Success! The Dunk line was a huge hit with the skate masses, including top rated pros. Which is why legends Paul Rodriguez and Lance Mountain jumped on board Nike SB as brand ambassadors.
Nike SB continued its momentum by building a private skateboard training facility in downtown Los Angeles. Called '6th And Mill' after the two intersecting streets it's built upon, this state-of-the-art skate gym is now regularly featured in leading skateboard videos, magazines and blogs. Ba-bam! Now that's what we call serious skateboard swagger. Not to mention, authentic skate cred.
Here at PacSun, authenticity is a big deal. And that goes for all our brands. If they're not supporting the California lifestyle we know, love and live, they're not going to be at PacSun.
But as is, our loyal customers have told us Nike SB has passed the test. Seriously, their cool meter is off the charts with products like the Nike SB Icon t-shirts and fleece crews, as well as the Janoski skate shoes. And whenever Nike SB releases something new and monumental, you'd better believe PacSun will be the first to offer it.
Nike SB is Nike, Inc.'s dedication to skateboarding, pure and simple. In 2001, Nike Skateboarding started with a singular mission: Respect the past, embrace the future. Whether it's through our diverse team of pros and upcoming amateurs, or through the combination of our classic and innovative footwear and apparel, that saying has helped shape our identity and been our guiding light. Twelve years into the effort, it is our goal to inspire and support skateboarders for years to come.
Get your perfect Nike SB shoes for men right here at PacSun.com.