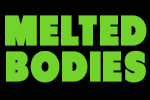 Find out more about Melted Bodies
Melted Bodies: The afterbirth of a pregnancy between Passion and its mother Necessity.
Andrew Crusher (aka Andy Hamm) is an artist, musician and designer currently living in Los Angeles, California. Following a successful career in fashion, he became a founding member and performer in a band named Local Natives for the better part of six years. He has since broke out on his own and along the way has built an ever growing body of work in music, fashion, video and the visual arts. He is the sole mind, artist and creator behind Melted Bodies.
The clothing and graphic direction are rooted in his adolescent upbringing as a young fan of thrash metal, death metal, grindcore, toys and horror movies. Their influence has forever been imbedded into almost all of his work and over the years he has taken his love of these cultures to cultivate a style to call his own."