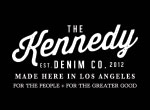 Find out more about Kennedy
Kennedy Denim Company is a Los Angeles based denim brand that takes deep pride in American manufacturing. Backed with over 40 years of denim manufacturing experience within the family, Kennedy Denim was developed from an in-depth understanding of the industry's demands for competitive price points, quality, style & design.
Celebrating classic American style with the perfect blend of timeless design and modern street aesthetics, Kennedy Denim Co. strives to surpass the people's expectations on denim design and manufacturing.