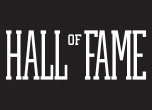 Find out more about Hall of Fame
The dictionary defines Hall of Fame as "a number of individuals acclaimed as outstanding in a particular profession, field of endeavor, locality, or the like." A Hall of Fame acts as a shrine to the very best in a field honoring excellence and supremacy. Every athlete, musician, and any person passionate about their craft, dreams of receiving an invitation to join the Hall of Fame. Not only does it mean you are good enough to be noticed, it means you are good enough to be remembered.
Hall of Fame is a Los Angeles based, sports inspired athletic brand established in 2007. Hall of Fame took this concept and applied it to their brand. There are an immeasurable amount of brands in the market today, but Hall of Fame looks to offer only the crème de la crème. After over twenty years of experience in various branches of the street and sportswear world, the proprietors of Hall of Fame recognize an important void in the market. Taking inspiration from vintage sport and classic Americana to breathe new air into the market.