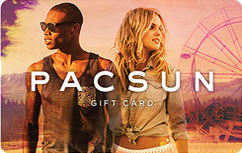 Valid for redemption in-stores or online
Choose from a variety of styles and denominations
Include a personal message which will be delivered with the Gift Card
Your Gift Card will be delivered with free standard shipping
Gift Cards can be ordered in any amount starting at $5.00. They are sent via mail and will arrive in
4-7 business days. Free standard shipping for U.S. only. Gift cards cannot be purchased internationally or used for international orders.